I've been doing a lot of research on the web as to what constitutes a good retro skin care regime. I am lucky enough to have a source for one of the best, my Dad used to work for the makers of good old Nivea creme which has about a million uses.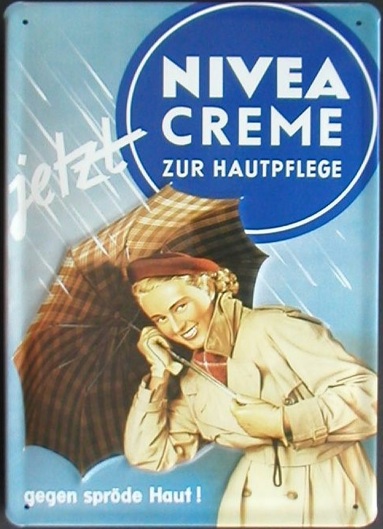 I always thought of it as a moisturiser which could be used on any part of the body or face but since doing my research I have found that loads of people actually use it as a cold cream as well. I even came across this video on you tube where a girl tested it against Pond's cold cream for make up removal powers and their are plenty more videos like this one!
On vintage discussion boards many women say they use a cold creme regime nightly and use witch hazel as a toner one or two nights a week. I think this is the one I am going to try because my skin is quite oily so it would need the witch hazel. Both of these products are quite cheap so if you are interested why not try out a more low tech approach to skin care and see how your skin likes it!